House Extensions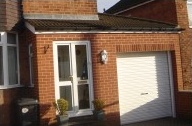 Our extension services
Whatever stage you are currently at, be it from looking into having an extension built to having already got plans drawn up and are now looking for companies to offer you a free no obligation quote to build your extension, we at Squirrel Construction are able help you.
We offer a complete building service from planning & design and submitting it to Sheffield City Council's Building Control right through to building your house extension. We can also offer you a wide range of building services that complements our house extension business such as fitting in your new kitchen or adding a new bathroom once your extended home is built.
We are completely flexible to what your requirements are when it comes to building your extension as long as we get to lay down the foundations to your house extension.
During the build we keep you informed every step of the way while we work to minimise the effect of disruption our working builders may have on you, your family and your neighbours. We keep the work area clean, safe and secure at all times.
We involve the local authority building control inspector at every stage to the final sign off ensuring that your newly built house extension is fully compliance with current regulations.
If you want a free no obligation quotation for an extension then feel free to contact us.
Example photos of house extension built by us
Click photos to view full size.
News related to house extensions
2nd Nov 2009

Porch extension in Sheffield
Porch extension constructed in English bricks to match the existing house. The porch is built off the existing kitchen for the sole purpose of a cloakroom as the kitchen had been used as a dumping ...
10th Oct 2009
Two storey side extension including garage, combined with single storey rear extension
This property was purchased recently but in need of quite a lot of refurbishment. The owners made the decision to move into rented accommodation and undertake massive alterations to the property. Due to its position ...
Additional information on house extensions
If you haven't got plans and have no idea on what you should do in order to get started then visit our step-by-step guide to house extensions. Whether or not you have plans and are looking into how much an extension cost then you should read up our section on the cost of extensions which gives an insight of why obtaining ball park figures off the internet isn't as simple as you may think.