Moving versus extending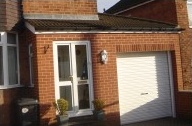 The Pros and Cons
Upsizing to a larger property might involve you looking at properties outside of the area you currently live in due to the fact that there aren't many larger properties built in your area. External factors such as those listed below can often influence your decision to remain in the area and extend instead.
good neighbours in the area
family members living nearby
easy access to services such as:
buses
local shops
school
e.t.c.
getting to work is convenience
your children like their local schools and friends.
If you did decide to move you could end up being in a chain when selling your home. This could mean a lengthy wait assuming the the chain doesn't break.
When you extend you have the opportunity to re-model your home the just the way you like it.
You need to consider the following additional cost of moving:
estate agent fees
packing boxes + removals
if applicable, stamp duty fees
solicitors fees
house survey fees
Would this money been better put to use toward the cost of the house extension?
The down side of extending are:
Worries if you've chosen the right builder for the job
Having to put up with builders for a few weeks
The stress endured in moving and extending are about the same.