Different kind of house extension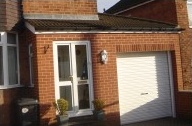 Introduction
Building a house extension can add value to your house if you maximize the space it creates for you to the full. If your budget is limited to a single storey extension, the concrete foundation we lay down is built with two storey extension in mind. This is so that you can add an additional floor at a later date should you so require.
You may find that your budget, personal needs and existing ground space can often dictate where you extensions should be.
Rear house extensions
Rear house extensions are very common due to most properties having sufficient land at the back of the house to accomodate one. Since most kitchens are found at the back in the majority of properties in UK it is often the room that ends up being extended to create a spacious open-plan modern kitchen area. This does however depend on how you would like the internal alterations to open into the extended area along with what your needs and budget are. Problems with rear extensions are that you are likely to be limited to how much floor space you can extend out without blocking your neighbours right to light.
Side house extension
Depending on how you open up your walls, a side house extension can take advantage of extending several rooms across the whole house. Adding a garage to the side extension is one reason why people choose side over rear extension when extending their property. Another reason to choose side over rear extension is that you can extend over more floor space in most cases. This of course depends on the relevant use of side windows of adjoining property if any.
Note: You should consider the implications and inconvenience to yourself should your side extension end up blocking access to the rear garden from the outside. Most people choose to have a side walkthrough carport as a way to overcome the access to rear.
Front elevation extension
This option is becoming more popular and is often seen being used in new build properties built today where one half of the house is elevated forward without effecting your neighbours right to light at all. The two major factors to take into account is that you might be limited by the following: A much smaller garden space at the front and that you are more restricted by how much you can extend out without blocking your neighbour's right to light.
Sample photograph of extensions at the front of the house
Please visit our conservatories page on this subject.
Your cellar is another way that you can extend your living space. You must consider the following which may limit your options such as room height are often too low and that natural lights are either non-existent or limited. If you plan to use the basement as a living area then you need to include alternative exit for the purpose to escape a fire if there are currently only one entry to your basement / cellar.
The loft is also another room you can branch into. You might have to consider losing a room on the floor below to gain access to loft space. Also you need to consider restrictive height that often dictates whether you can utilise this area or not. The ajoining semi or terrace prevent you from changing the roof pitch.