Our House Extension foundations policy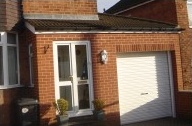 Is it better getting another company to do the foundations?
Our own company policy is that we do not undertake any house extension work if the foundations have been laid down by someone else without our close involvement.
You should seriously take the following considerations into account before you do decide to independently get two builders doing the work whereby one lays down the concrete foundations and the other to do the actual house extension.
No matter how good a builder is, the entire build is completely dependant on the foundation. Should subsidence occur causing cracks to appear in the walls of your newly built extension then you have two companies blaming each other as to whose fault it is. This will add another layer of complications for claiming on insurance which would probably end up being a drawn out process.
It is very unusual for a customer to be hiring two independent companies this way and as such that they are often suspected of not having paid the last builder who only got as far as laying down the concrete foundation before walking away from the job. Understandably, it not nice in being tarred with the same brush, but sadly this is often the case.
As a result of the above, chances are, you may be hard pressed to find a "good" builder willing to take on the build after someone else had done the foundations.
When you do eventually find a builder you may find they demand a large sum of money up front for the reason explained in point 2. and therefore exposing you to greater risks should the builder go bankrupt or at worst run off when things don't go as planned.
It is found that most potential customers who use this kind of approach are often doing so purely for cost reasons. An example of this would be they have a friend or family member who lay concrete foundations for a living and are having the job done at family / mates rates.
If you do decide to go down this route we strongly recommend that you make absolutely sure that the person who is doing you this favour is fully insured as often the company they work for is being by-passed and as a result you might find yourself not covered by their company insurance.